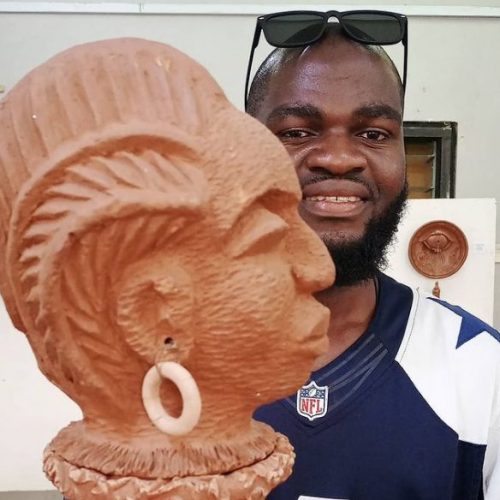 Olatunde Wasiu Asuni is a ceramicist with Bachelor of Arts and Master of Fine Arts Degrees from Obafemi Awolowo University. His works are characterized by Yorùbá motifs and folklores which are explored to deepen his narrative. Asuni was the technical assistant for Statues Also Breathe, a traveling exhibition by Prune Nourry in Partnership with Obafemi Awolowo University. He has facilitated and participated in various pottery workshops In respect to the upcoming Odún
Ifá Exhibition, I bring forth my Pottery piece.
Title : Atùnóríse Size : 38cm Circumference (Wall Hanging) Medium: Polished and Carbonized Terracotta Year : 2021
Olatunde W. Asuni is a graduate of Obafemi Awolowo University, Ile- Ife in Osun State, a Master of Fine Art degree (M.F.A), specialising in Ceramics. His works are inspired by nature, culture, and the immediate environment. He is an artist of high skilful exploration of clay with infusion of African motifs.
(II) Title: Alámòréré
Medium: Polished Terracotta
Size: 60 * 33 * 32 cm
Year: 2021