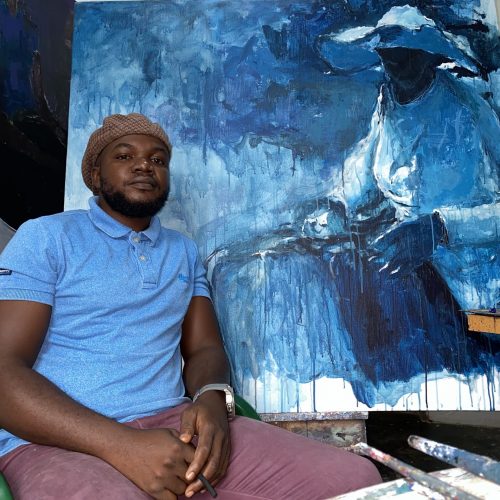 Gbemileke Adekunle grew up in the suburb region of Southwestern Hemisphere of Nigeria. His art pieces cover a wide range of subjects beyond scenes of melancholies grounded in expressive figurations, His creative practices depict dark and moody scopes of rustic suburbia and abstract expressions with religious and gothic flair.
In his quest to proclaiming the supremacy of African heritage and significance of Black history to the continent at large, he renders his figurative subjects in strong black hues, adding multiple layers of paints at intervals to give striking textural qualities in the end.
1.Three Wise Men"
Acrylic & oil Pastel on Canvas
24 by 36 inches
2022.
[£1500] 
The rendition projects three men on the quest of consulting Eledumare to foretell the unknown.
2.and 3. The Mediator"
Mixed Media on Canvas,
24 by 30 inches
2019.
The Mediator (11, 111)
Yoruba conservationists often revokes the biblical exegesis of Èsù of him being Satanic. Repudiating such assertions, his believers would often commend his philanthropic exertions. Èsù is the messenger of the oracle, taking sacrifices to him and bringing his commands to men, acting under his orders, and punishing the wicked for him. He is regarded as one of the most powerful Orisa, capable of changing his form at will.