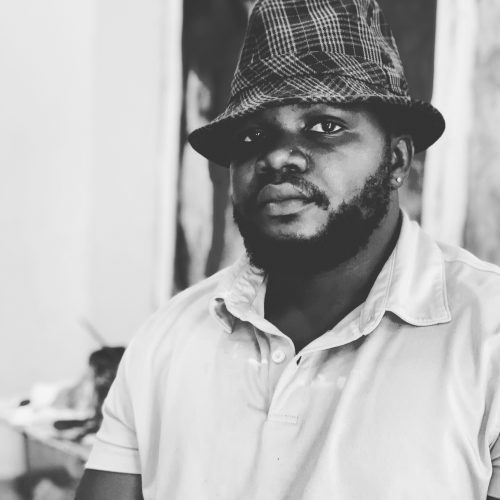 Gbemileke Adekunle was born in Ajilete, a village located in SouthWestern Nigeria in 1991. Raised by parents with huge passion for art, he was subjected to drawing lessons at a tender age and later served as an apprentice under a local artisan.
Gbemileke's works exposes scenes of melancholies grounded in expressive figurations which commune his deep interaction with his environment and also narrates his ordeal of past mental health issues and anxiety. "My studio practice is rooted in the exploration and documentation of my ethnical background. It draws strongly on ranging issues from solitude to the complexity of heritage.
Connecting with people's emotions and minds as a visual artist is dutiful, invoking such through engaging and provocative representations is fundamental to human existence and development." His series called "Dementia" gives an expository about agoraphobic inclination of the artist and also convey sense of being suspended in time and space exploring menace between the physical and mental state. Gbemileke works is described as expressionist painting with fewer recent works leaning towards abstract expressionism. His primary medium is acrylic but often seen using oil pastel and charcoal combined to give striking textural feels.
"My art is incomplete without the use of oil pastel and charcoal, that gives nostalgic bring-back of my childhood where I used burnt wood and crayons for my drawings.
Gbemileke currently lives and works in Osogbo, Osun State.
Gbemileke Adekunle grew up in the suburb region of Southwestern Hemisphere of Nigeria. His art pieces cover a wide range of subjects beyond scenes of melancholies grounded in expressive figurations, His creative practices depict dark and moody scopes of rustic suburbia and abstract expressions with religious and gothic flair.
In his quest to proclaiming the supremacy of African heritage and significance of Black history to the continent at large, he renders his figurative subjects in strong black hues, adding multiple layers of paints at intervals to give striking textural qualities in the end.
1.Three Wise Men"
Acrylic & oil Pastel on Canvas
24 by 36 inches
2022.
[£1500] 
The rendition projects three men on the quest of consulting Eledumare to foretell the unknown.
2.and 3. The Mediator"
Mixed Media on Canvas,
24 by 30 inches
2019.
The Mediator (11, 111)
Yoruba conservationists often revokes the biblical exegesis of Èsù of him being Satanic. Repudiating such assertions, his believers would often commend his philanthropic exertions. Èsù is the messenger of the oracle, taking sacrifices to him and bringing his commands to men, acting under his orders, and punishing the wicked for him. He is regarded as one of the most powerful Orisa, capable of changing his form at will.