Artists Featured In 'Yoruba Ni Mi' Exhibition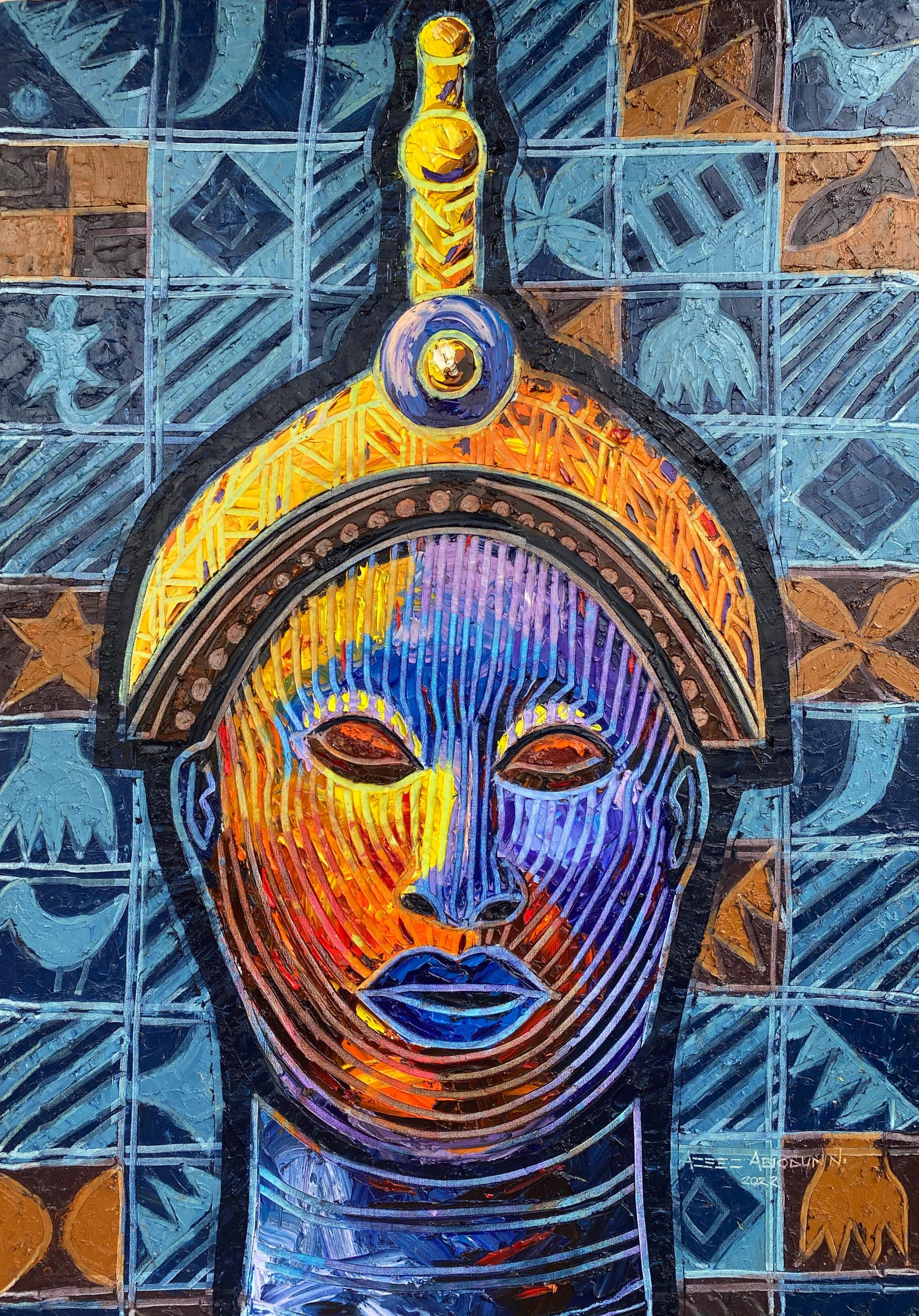 AZEEZ ABIODUN NAFIU

Abiodun from Osogbo in Osun State of Nigeria holds a National Art Diploma (ND) from the Polytechnic, Ibadan (2014) and graduated from the prestigious University of Benin (2018) in Fine and Applied Arts.
He inherited his flair and passion from his father (Mr. Azeez Oyeyemi), a well known indigenous artist from Osogbo Art who has worked in the field for more than 30 years.
He was inspired by the traditions and cultural in Osogbo, where the international annual Osun Osogbo Festival takes place which has been recognized as a world heritage site by UNESCO.
Abiodun was elected in 2013 as president of Art and Design Student Association (ADSA) at the Ibadan Polytechnic. He also participated in a group exhibition at the Gallery of African Heritage, funded by the US Consulate in Lagos, in 2019.
Abiodun founded Zeeliberty Art Centre in 2019, situated in Osogbo, Osun State. Its aim to promote African traditional Art. Zeeliberty Centre also offers free training to aspiring artists and students from institutions across Nigeria in a philanthropic effort to contribute to the art society in Nigeria and further afield and to be a source of inspiration to other aspiring artists.
Contact info
22, Old Fan Milk Depot, Ajegunle,
Osogbo, Osun State
+234 7031034153 (NGR)
abiodunnafiuazeez@gmail.com
Facebook.com@abbeyart18
Instagram.com@azeezabiodun_n
ADEYEMI OLALEKAN
Adeyemi Olalekan is a painter of visually engaging and photo-surrealistic paintings. He infuses a strong socio-cultural interpretation into his strict patience in searching for an aesthetic representation and at the same time an avenue to extract the best of his creativity.
Adeyemi Olalekan (b. 1988) in Odeomu Town of Osun state, Nigeria. He graduated with an honors degree in Fine and Applied Arts from the Ladoke Akintola University of Technology, Ogbomoso. He is a photo surrealistic painter who infuses Yoruba socio-cultural translations into a contemporary aesthetic representation. A winner of the Next of Kin (Series 4) 2022 annual competition and exhibition. He has participated in several group exhibitions both in Nigeria and internationally. An annual exhibiting member of the SNA since 2018. He lives and works full-time as a studio artist in Lagos, Nigeria.
I strongly perceive the affairs of life as a peeling-off process, just as skins are shed, first comes the loss of hold to the former ground, and the cracking or peeling off leaves symbolic evidence of time in every reason. This conscious experience transcends any time, present or past. I want my works to be a timeless and still relative experience when encountered because just as time goes on, life goes on.
CONTACT
Adeyemi, Olalekan Julius
T: 07068368580, 08025532903
FB: Adeyemi Olalekan Julius
IG: Olalekan_art
LinkedIn: Olalekan Art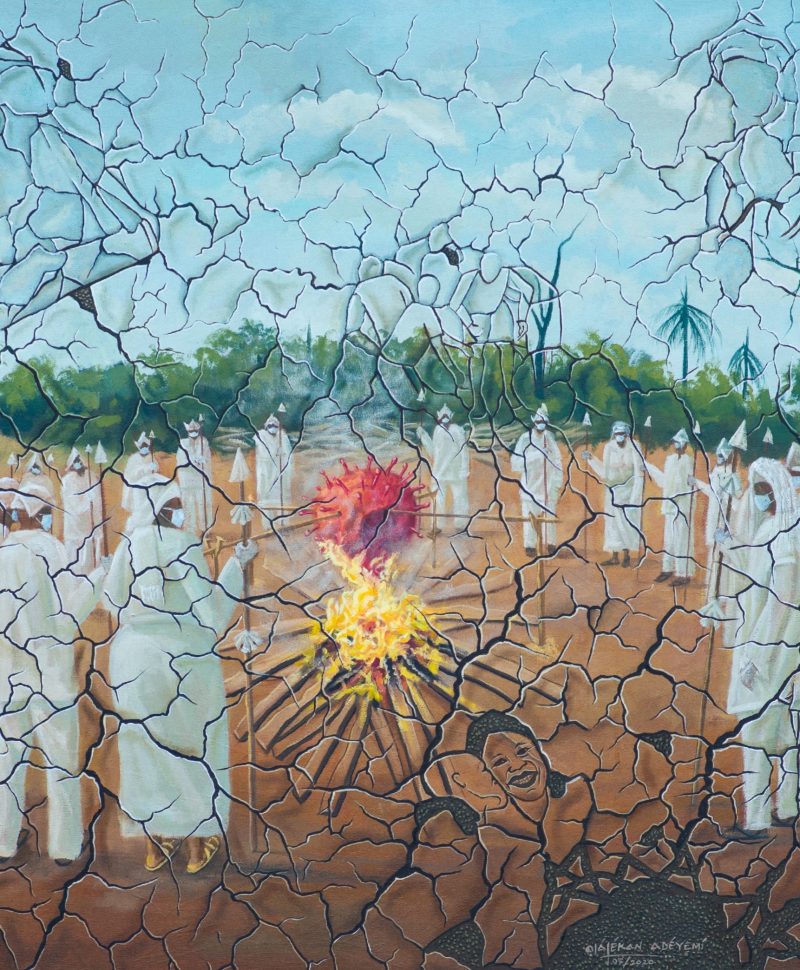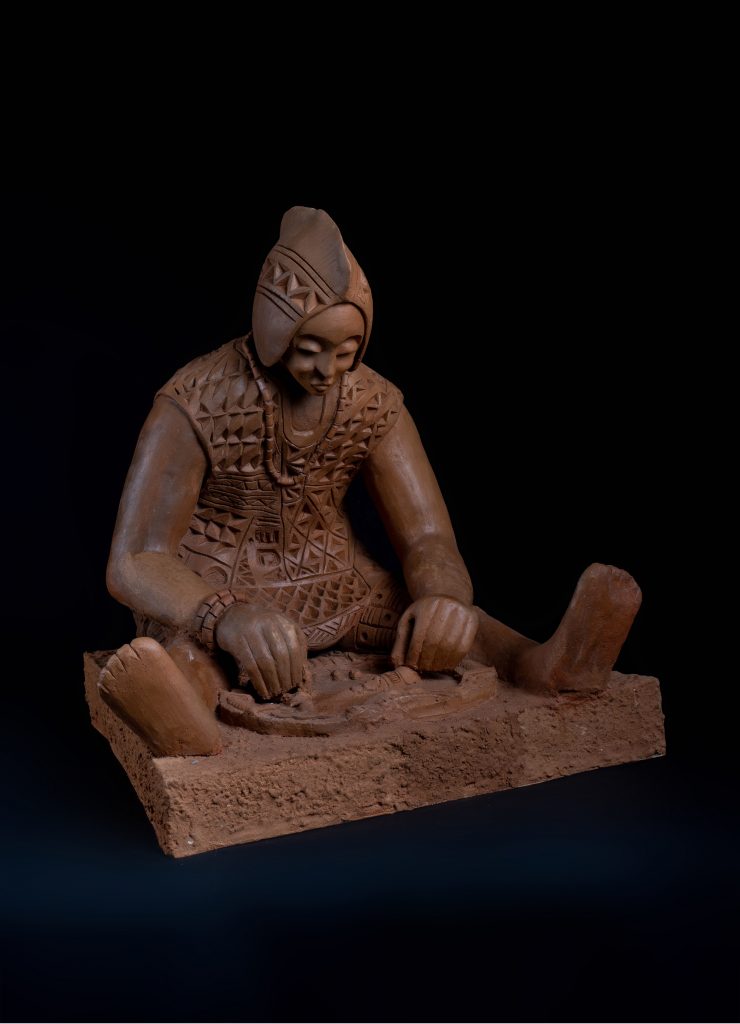 AKANNI KEHINDE
Kehinde is an indigene from Saki, Oyo State Nigeria, and a graduate of Obafemi Awolowo university where he studied Fine and Applied Art specializing in Ceramics. 
He uses clay as his primary medium of artistic expression, skilfully making use of African traditional motifs and Yoruba Adire motifs and icons.
Kehinde desires to express his creativity through his chosen medium of ceramics and to promote creative art. He is full of creative ideas and wants to perform excellently as an emerging artist living a clear legacy in the history of arts in Nigeria and worldwide
Contact and Social media
Akanni Kehinde James
Email: Akannik7@gmail.com
Contact: 08136037133
Facebook: https://www.facebook.com/104026294888835/posts
Instagram:
http://Www.Instagram.Com/keni_clays
Twitter:
https://twitter.com/AkanniKehinde15?t=K_7Wllj4z_m62txrN0gxyA&s=09
BAKARE OLAMIDE
Influenced by many Yoruba stories in the society, Olamide portrays hairstyles and attires using certain facial expressions that occur in everyday life activities to define the beauty of a Yoruba personality representing Africa. She also draws inspiration from her immediate environment, music, and certain scenes that hold sway in her surroundings.
Her works also create new patterns of stories about African people in Africa, which is a means of identity. Through the analysis of her works, she relentlessly attempts to unlock mysteries in her descriptions, especially about the need to embrace yourself through cultural identity in Africa. 
Her desire is to address an old Africa in order to create a refined, revamped, rebirthed Africa in the heart and vision of the audience. She was born in Badagry, an ancient Yoruba cultural city in Lagos, Nigeria. 
Contact details: 
Email: bakareolamide88@gmail.com
Mobile number: +2348106452590
Social media: Lammie_artt@instagram
Bakareomodara@twitter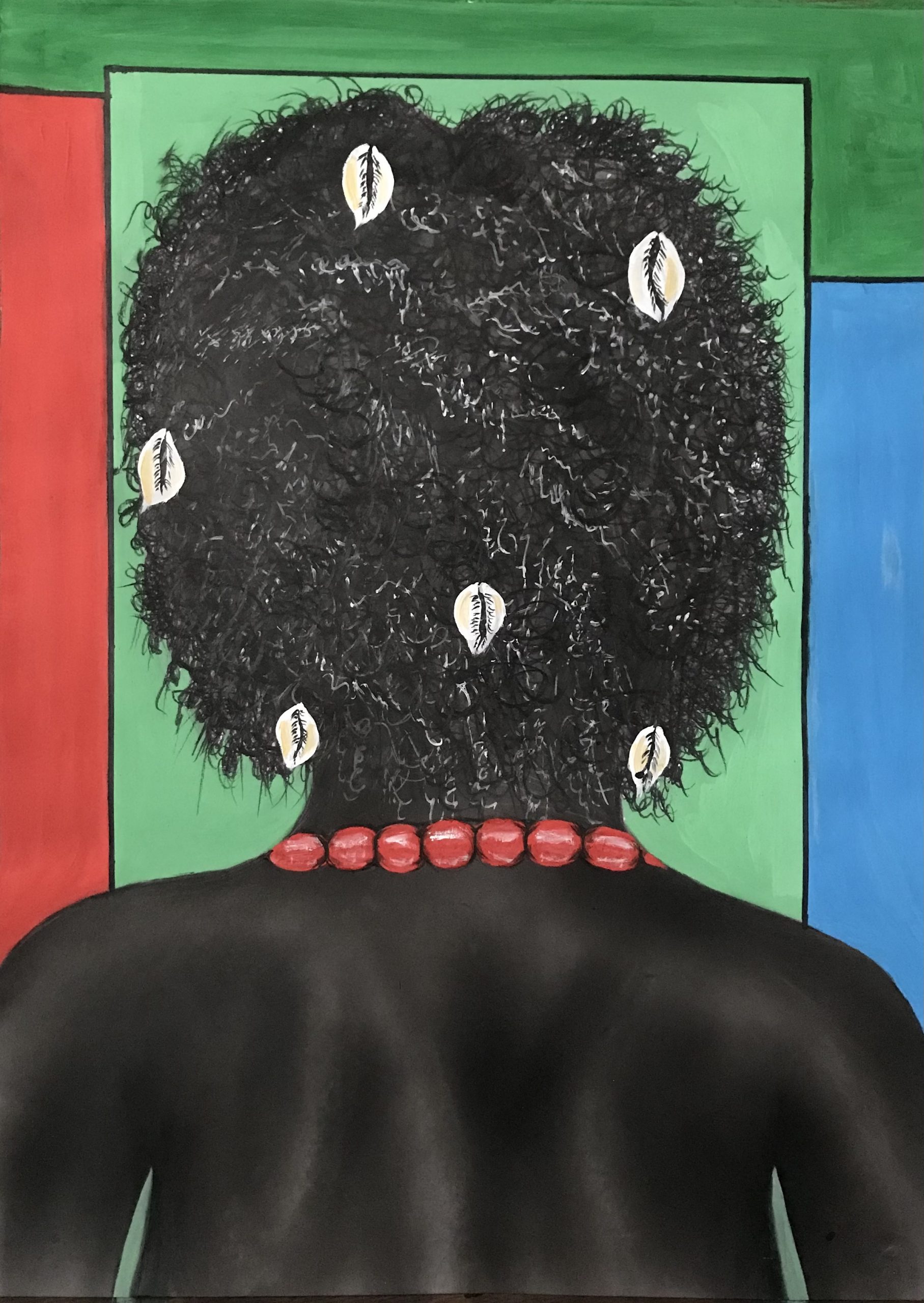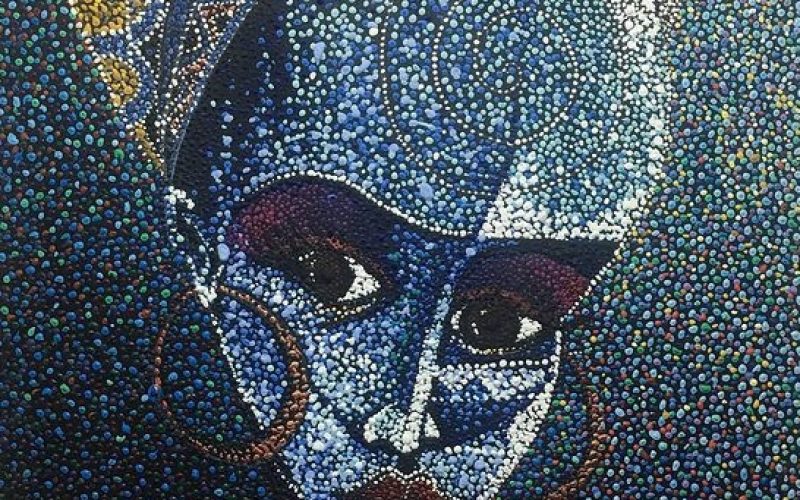 BOLATITO ALLI
Bolatito Alli, was born in Ibadan, Oyo state, Nigeria and studied accounting at the Moshood Abiola Polytechnic Abeokuta, Ogun State Nigeria.
He is a self-taught artist, who loves to experiment with varied materials to make artworks, inspired by the workings of the human mind and, how different people react to things happening around them.
IG:  alli_b_art
Phone number: 2348036360235
BOLU IKUEMONISAN
Bolu Ezra Ikuemonisan, 'Kubols' as he is popularly called, is best known for eclectic hyper realistic drawings that carry a message enshrined in metaphorical symbolism of humans with regards to social interaction, exploring history, lifestyle, religion, and culture.
Bolu Ikuemonisan has a B.A in Linguistics, from the University of Ibadan, Ibadan. Nigeria. He emerged winner of the TANA art competition in 2017, was part of the Top 100 artists of the year by FARABALE ART Magazine in 2017.
Bolu had his work highlighted at the Ake Festival Review in 2019, and has participated in international exhibitions at Johannesburg, and India. In 2022, he made the 30- man shortlist in the Mayana Gold art competition.
Bolu is committed to creating art works that tell stories about the biography of humanity.
Bolu Ikuemonisan
Contact: 08091543137 (NGR)
Instagram: boluikuemonisan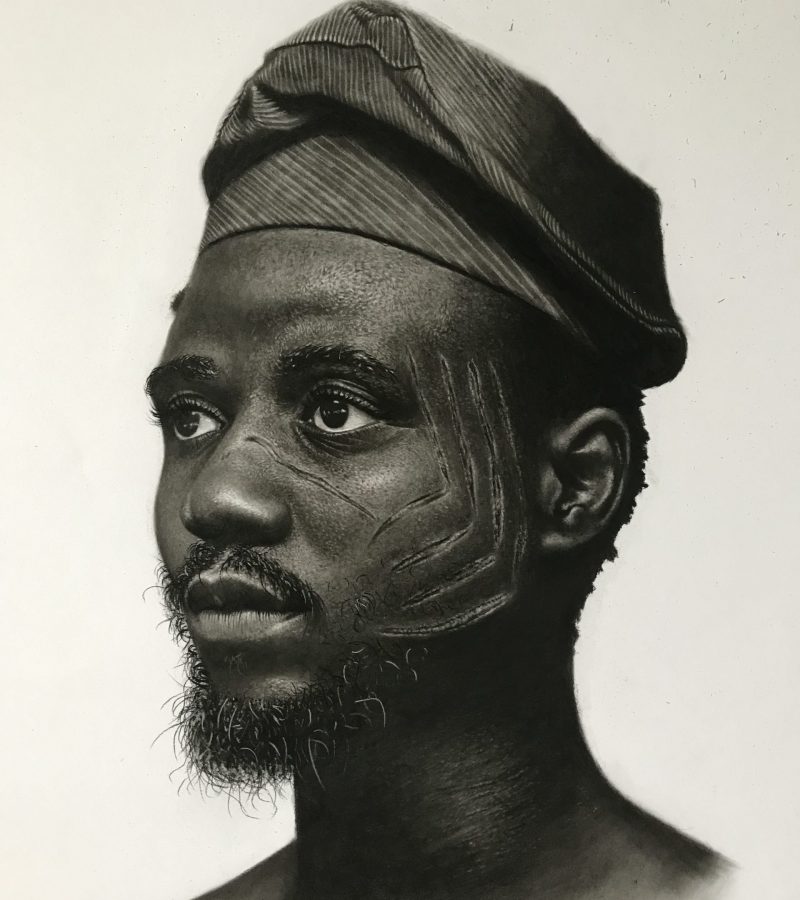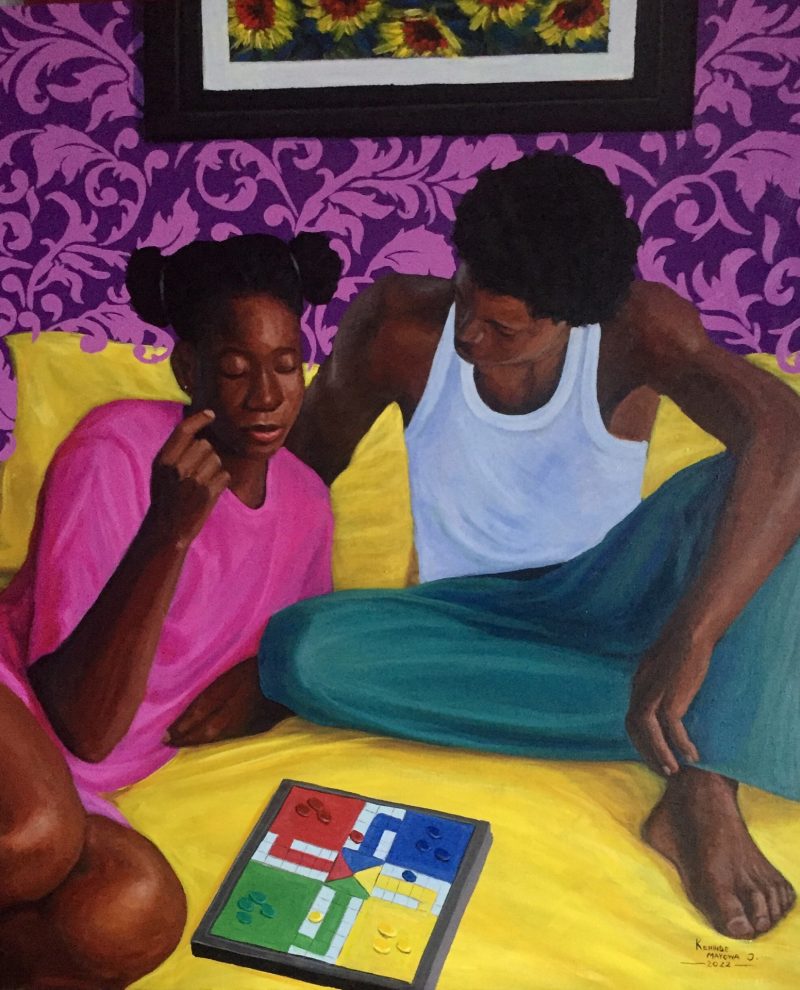 KEHINDE MAYOWA JOSEPH
Kehinde Mayowa Joseph is a Nigerian visual artist born 10th November 1994, he hails from Ibadan oyo state, Nigeria 
 He attended The polytechnic Ibadan, where he got his National Diploma (ND) certificate in General Art , dated (2015)
 He further attended the prestigious institution Auchi polytechnic, Auchi Edo state. Where he got his Higher National Diploma (HND) in painting dated (2020)
TRAINING
Kehinde Mayowa , Trained as an IT student under Fashola Gideon and also under the master of painting Akinola Ebenezer.
He participated in the workshop organized by Alvin Usman , Kesa Babatunde and other artist in 2020
EXHIBITIONS 
Miniature art fair 2018
Life in my city art exhibition 2019
Open Art Barcelona ,Spain 2022 
SOCIAL MEDIA PLATFORM 
Instagram: @iam_kehindemayowa
LOJE OLUWASEUN
Loje Oluwaseun is a Nigeria female artist, based in Lagos Nigeria, from Ondo state. She studied Art and Industrial design at the Lagos State polytechnic Ikorodu Lagos, where she gained an HND in painting and thereafter undertook industrial training at Abdulsalam Art concept.
Loje expresses her creativity with distinctive styles like impasto, realism, impression, and mixed media. She works with different mediums such as acrylic, oil, magazine, water colour, fancy rubber. She draws from daily activities happening around her and social life.
Loje has participated in various art exhibitions featuring budding female artists and her artworks are exhibited on online art galleries. She collaborates with a mural company BZL crew and is a member of five collectives. A sister's art group, bohemian enterprise, group Abdulsalam art concept group and vivid art group
Loje resides and works as a full-time resident studio artist in Lagos, Nigeria.
Contact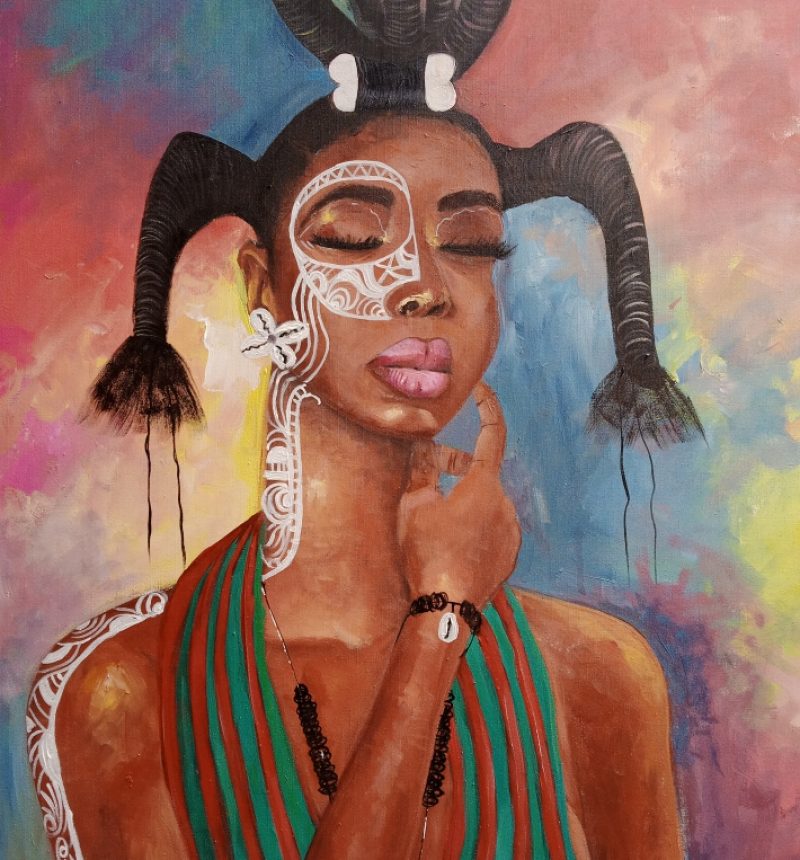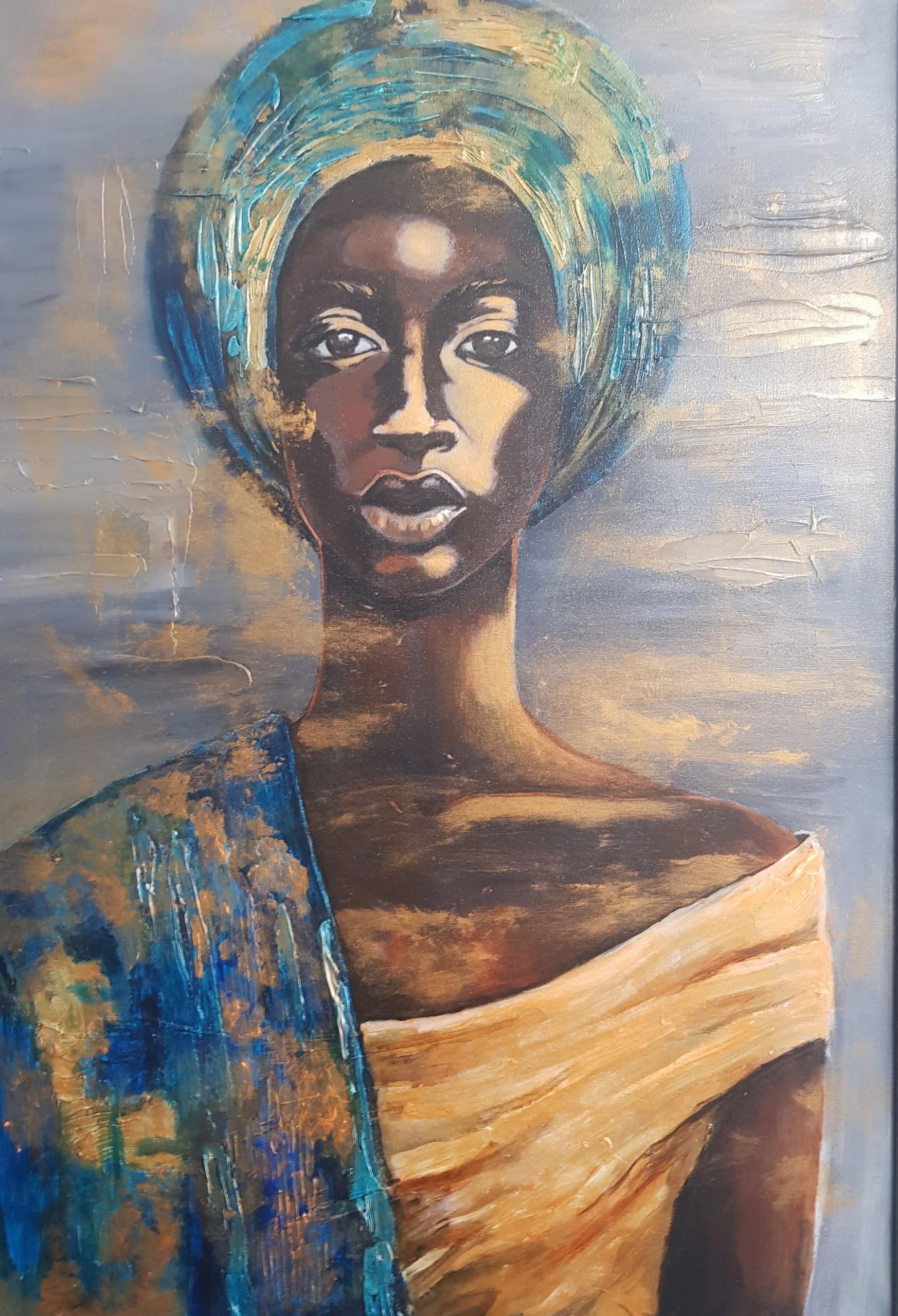 NANETTE BENN 
A surveyor by profession, Nanette began her artistic journey in 2018 when she began canvas painting. She went on to add digital art to her body of work during the 2020 lockdown.
Born to a Trinidadian mother and Nigerian father, Nanette would go on to embody her mixed heritage into her paintings.
Nanette describes her talent as her ancestral gift & is a celebration of feminine energy and tenderness.
Contact
Www.Etsy.com/uk/NanetteCreates
nanettebenn@hotmail.com
OBIWURU ESTHER
Obiwuru Ester, is a Nigerian base Artist who was born and lives in Lagos. She is a prolific painter that fell in love with Art whilst she studied Art and Industrial Design at the Lagos State Polytechnic. She completed her industrial training at the Universal Studios of Art, Lagos, Nigeria.
Esther is a figurative realism Artist that draws inspiration from her environment, thoughts, childhood memories, African beauty, and way of life. In her works, there is a blend of modern and traditional way of life of Africans.
According to the Artist 'My work of Art is created to express my inner feelings, I want people to see hope in hopeless situations, the positive side of life and to be reassured of their dignity and self-worth.' I did not choose Art, Art chose me.
I am proud to be an Artist!
Esther has participated in various group art exhibitions in Nigeria.
Contact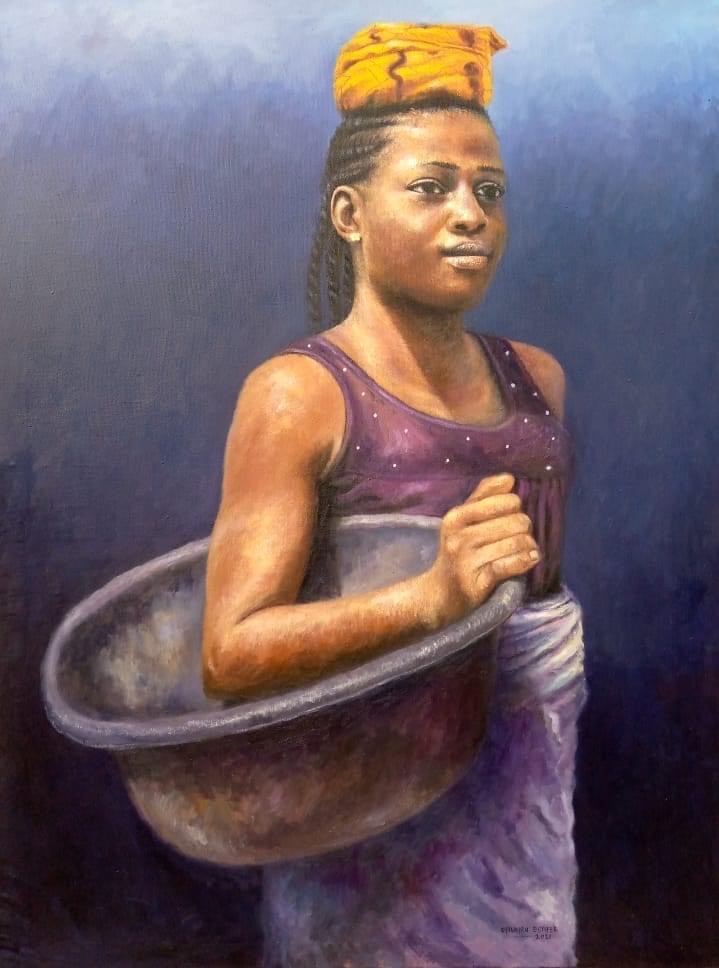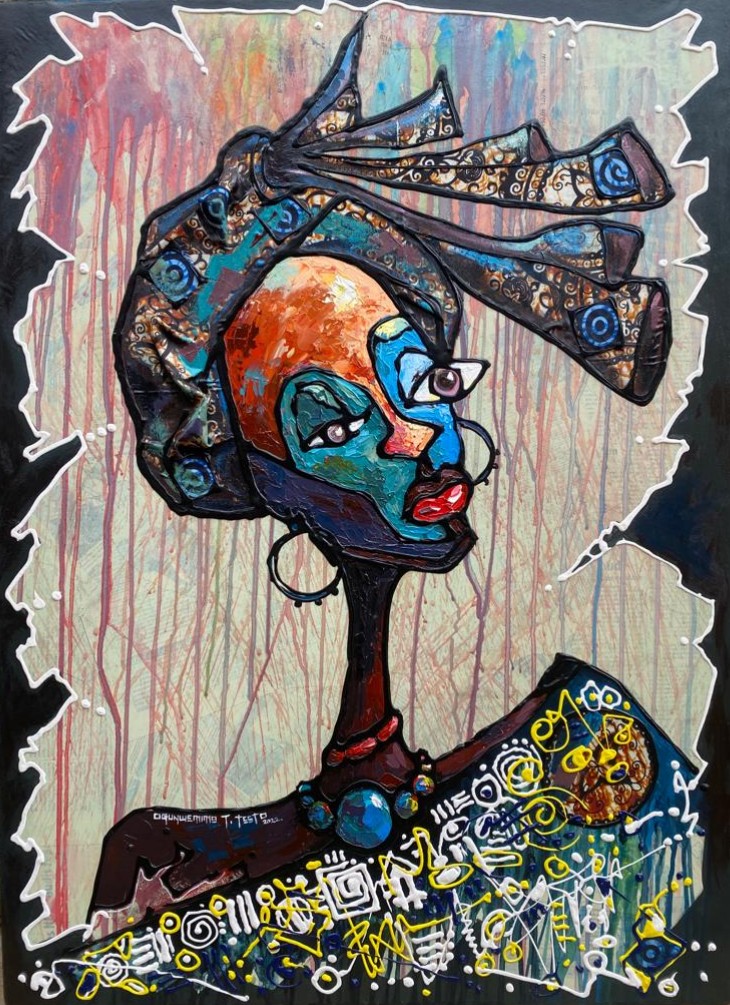 OGUNWEMIMO TOSIN TIMOTHY
OGUNWEMIMO TOSIN TIMOTHY, (a.k.a Teeto) is an indigene of Abeokuta, Ogun State.
He studied General Art at the prestigious school, Yaba College of Technology, Yaba, Lagos. Specializing in Painting in Art.
He has participated in various exhibitions both at home in Nigeria and abroad. His art is currently displayed at several public and private collections in Nigeria. He works with oil, acrylic, and water colour mostly in mixed technique.
Ogunwemimo T. Teeto is an Artist that loves what he does best in his field. He expresses his Art as innate. He is driven by his inner spirit to bring out the best of his creativity in visual objects of aesthetic value, pleasing to his audience.
E-mail: teetoartworld2012@gmail.com
@Ogunwemimoteeto
08135349388 (NGR)
OKUNADE QUADRI OLAMILEKAN
Okunade Quadri Olamilekan is from Lagos State Nigeria. He studied Fine and Applied Arts at Ladoke Akintola University of Technology, Ogbomosho, Oyo State, where he majored in painting and graduated in 2016 with Btech (Hon. Fine and Applied Arts).
His artworks art strongly influenced and reflect the cultural and political happening in society. His symbols and motifs are reminiscent of his childhood visiting community village shrines art as well as Egi-Ami. He chooses to focus on the complications of life and its impact on everyday people.
He explores using non-conventional materials, waste materials, and textured surfaces with an interest in bridging postmodern art with a contemporary sensibility.
He has participated in various group exhibitions, competitions, and he is a full-time practicing studio artist residing in Oyo Nigeria. His work is extensively collected both home and abroad.
Contact
Instagram: https://www.instagram.com/okunadeolamilekan/
Instagram: @okunadeolamilekan
Contact: +2347033448118 (NGR)
Artist's statement:
MY ART
The issues, ideas and events arising from man's quest to contain and contend with dominant forces form the subject of my paintings for this exhibition. My paintings for this exhibition are highly stylised with women accorded prominent attention in my composition. This is deliberate.
The African woman is strong beautiful and flowery. They live in a male dominated society, based on local cultural tradition with few rights and yet strive so hard to eke out and sustain a living.
So, I celebrate them by weaving my composition around them most times in their hours of needs, joy, pain, and other human activities.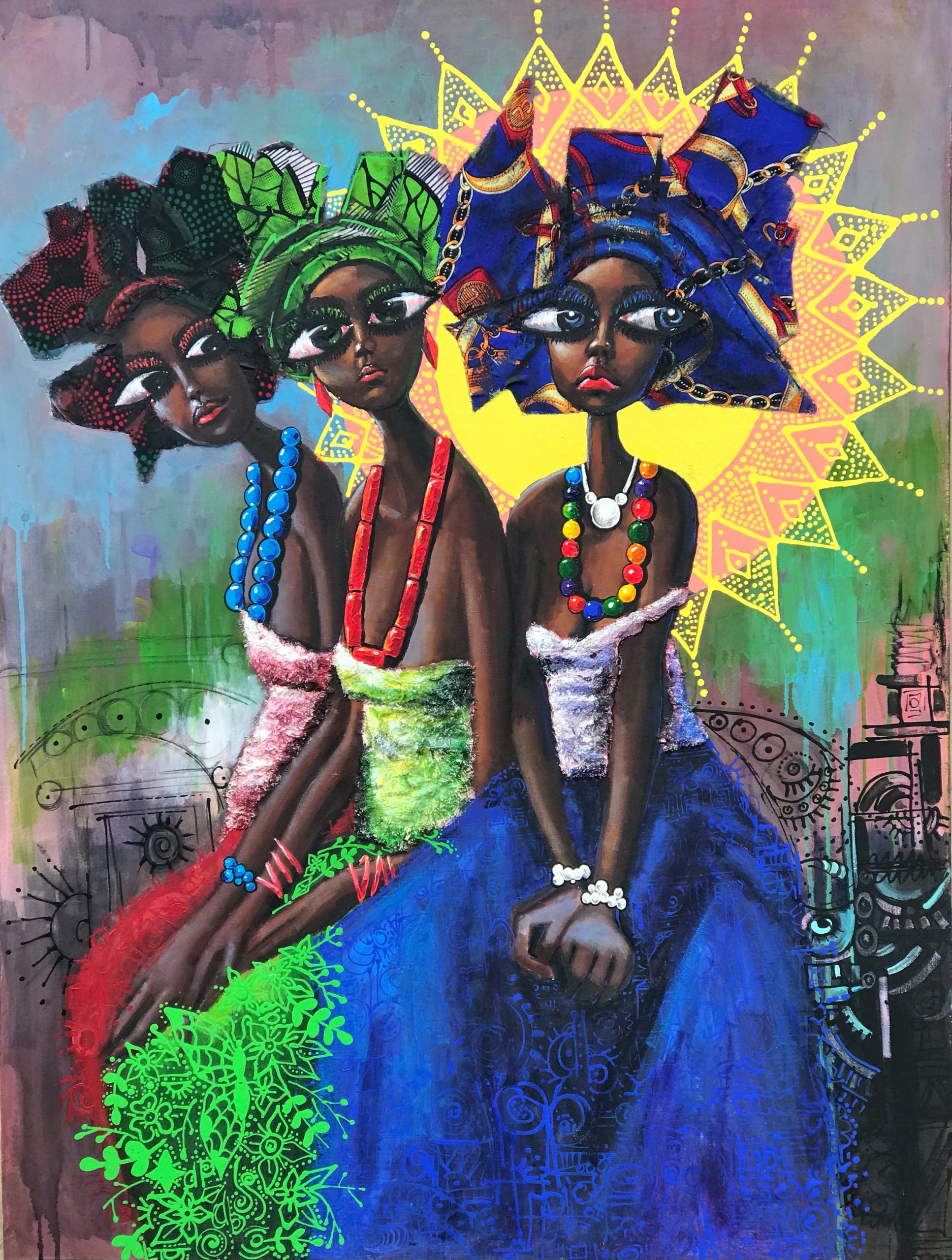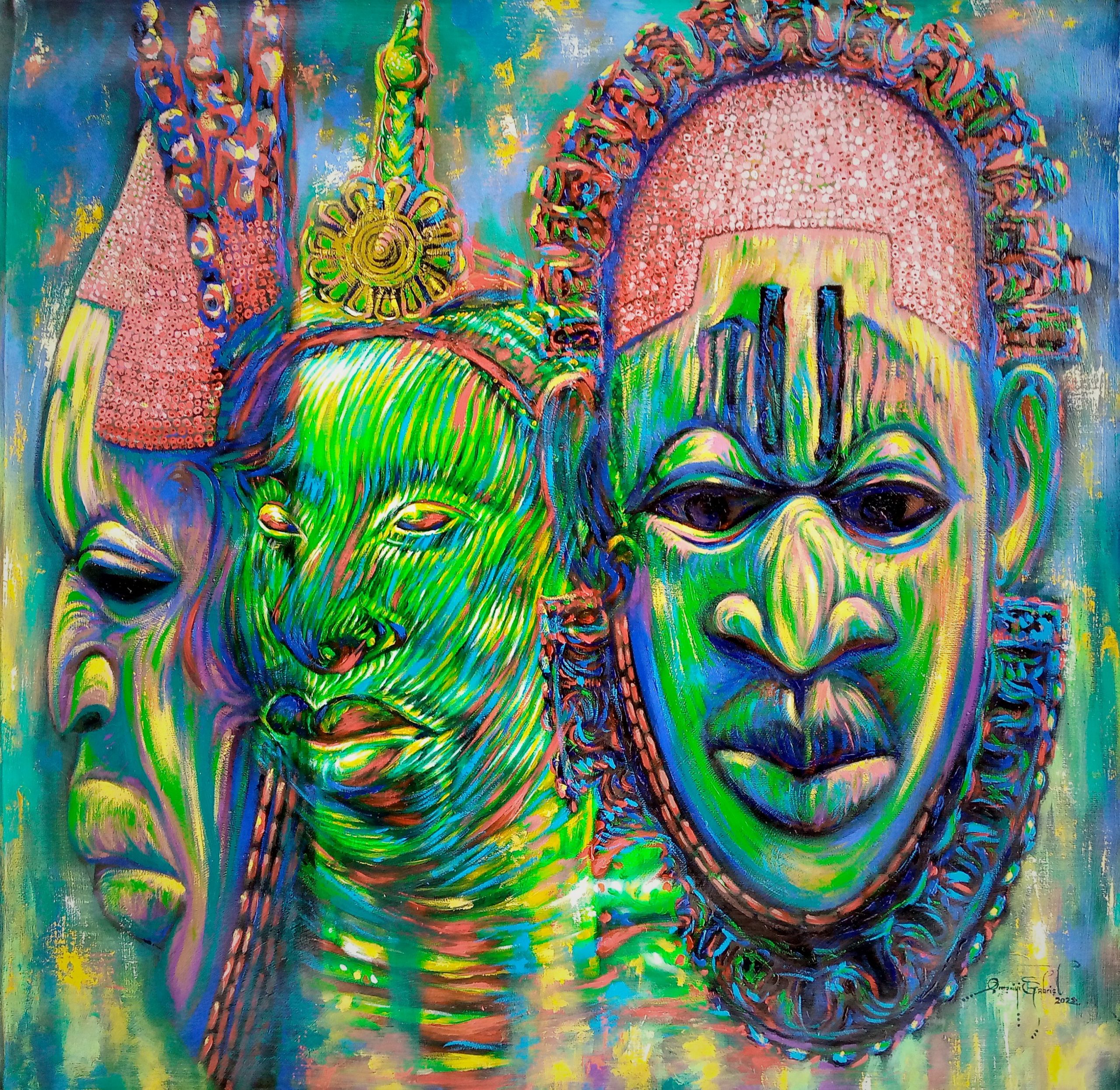 OMONIYI GABRIEL
Omoniyi Gabriel Gilbert is from Ibadan, Oyo State, Nigeria, and a graduate of Fine-Arts (B.A. Painting) at the Obafemi Awolowo University Ile – Ife, Osun State (2017). He also studied Fine and Applied Arts at the Federal College of Education, Abeokuta in 2006 – 2008, (NCE) under the tutelage of Late kola Anidugbe and won the Overall Best Student prize in 2008, after which he tutored Art at Elyon College, Abeokuta Ogun State for a few years.
Most of his works are in Acrylics and Oils with more focus on semiabstract and expressionistic renditions which expresses the vibrant spirit and atmosphere of the African culture and heritage. His creativity is inspired by his fascination for color, nature, and aesthetics.
His creative style is of a fearless colorist who integrates a range of contrasting and complementary colours and textures with unbridled confidence and relentless energetic expression.
He has partaken in group exhibitions and Art competitions in Nigeria and has won outstanding awards to his credit. He is a full-time Artist (Painter) based in Lagos and Ogun state.
Contact and Social Media
T: 08064650488 (NGR)
FB: Gilbert Omoniyi Gabriel
IG: @gilbertomoniyi
ADEKUNLE PATIENCE ADEOTI                          
Patience Adekunle was born in Oyo State Nigeria. She studied Fine and Applied Arts at Ladoke Akintola University of Technology, Ogbomoso, Oyo State, where she majored in painting.
She has been exploring both conventional and non-conventional materials and textured surfaces with an interest in bridging postmodern art with a contemporary sensibility.
She draws inspiration from nature, personal imagination, and her environment. Her works are strongly influenced by a reflection of cultural occurrences in society, the complications of life, and their impact on everyday people.
She has participated in various group art exhibitions and competitions in Nigeria.
Contact: +2348162743514 (NGR)
Facebook: Patience Adekunle
IG: @patience.adekunle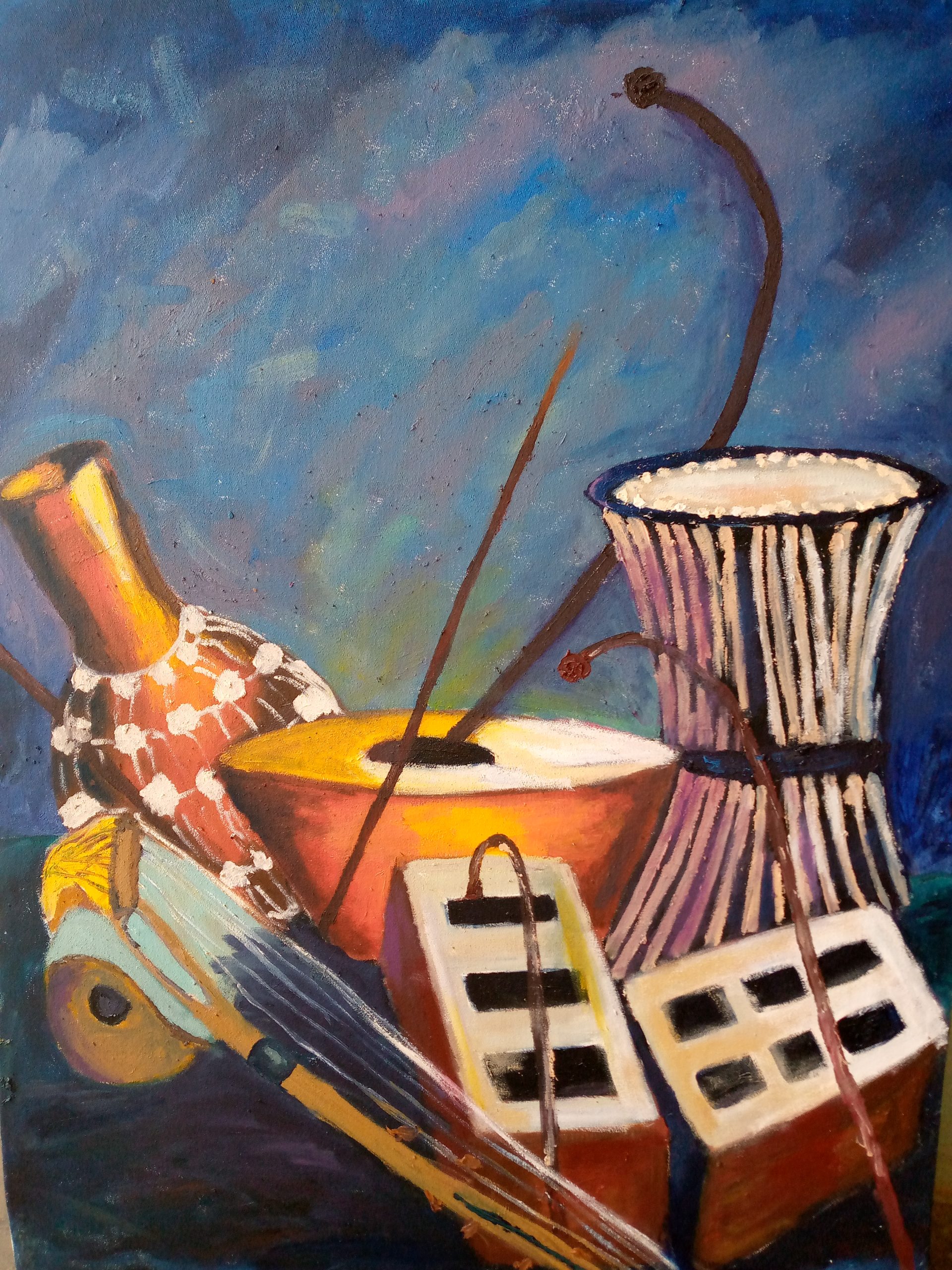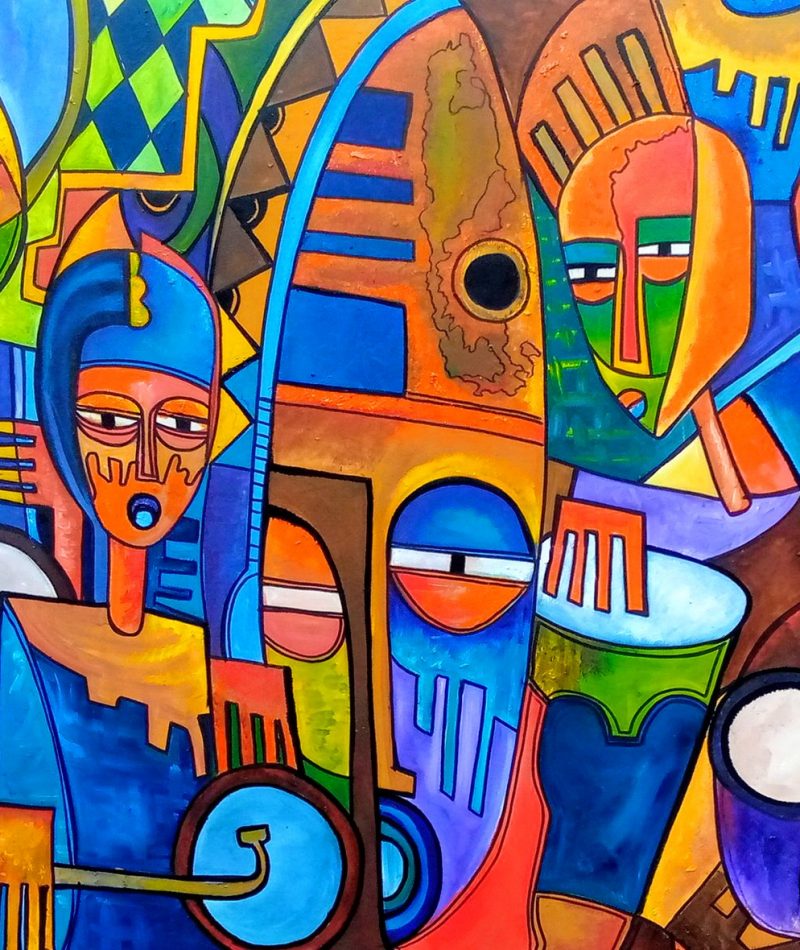 OWOLABI -SEGUN MOSES
My name is Owolabi Segun Moses I'm a contemporary multi-talented Nigerian Artist, who grew up in an ancient city popularly christened as a land of Indigo also known as Osogbo Osun State where he became fascinated with art from an early stage.
The artist progressed to furthering his education in art and design department from Osun State Polytechnics Iree. Gaining an OND on completion of his studies, majoring in all aspects of art but specialising in painting, wood, and carving (sculpture). 
Owolabi Segun Moses has partaken in a plethora of art exhibitions viz: Prof. Bruce Onobrakpeya art workshop which earned him the opportunity to participate in the last (USA) America embassy (NGR) workshop and has also featured in other exhibitions in Nigeria.
I speak art, I eat art, I wear art, everything about me is art.
I love to do something different from others with different medium
I want to share my art to the world 
I speak through my artwork 
I want the world to know art is meaningful and valuable work.
Contact
Owolabi Segun Moses
Instagram (segunart364)
Facebook (segun Owolabi)
SOMOYE OLUWAMUYIWA PAUL
Narrative: Tribal Marks are cicatrices called "ilà" in Yoruba language with a proverb to back up its beauty saying "títa ríro làá ń kolà, bóbá jiná tán á doge" (the process of having a tribal mark is arduous but when it heals, it becomes a point of beauty-pride to the carrier)
You saw me,
I told you my name,
You still asked where I hail from,
No, I won't tell you
You ask why?
MY IDENTITY speaks for me.
Contact
SOP_Creations Arts & Crafts
Artsofsomoye.sopcreations@gmail.com